The MK26!

Ergonomically Designed
Ultra-Low Frequency
Table & Workstation

The MK26 Series Vibration Control Workstation with more ergonomic comfort is designed specifically for ultra-low natural frequency applications. The system utilizes MinusK patented negative stiffness vibration isolators in order to provide a compact, passive Vibration Isolation Workstation with ultra-low natural frequencies, higher internal structural frequencies, and excellent vertical and horizontal isolation efficiencies. The MK26 has also been upgraded to provide much better user comfort and additional leg space. It also does this without any air or electricity!
The Minus K vertical isolator uses a stiff spring and negative-stiffness mechanism to achieve a low net vertical stiffness without affecting the static load supporting capability. Horizontal vibration isolation is provided by beam columns connected in series with the vertical-motion isolator. Adjusted to a 1/2 Hz natural frequency, the workstation achieves about 93% isolation efficiency at 2 Hz, 99% at 5 Hz and 99.7% at 10 Hz.

The MK26 Series can be configured for a wide variety of applications and customized with most of our vibration isolation workstation accessories.

Typical Vibration Control Applications for the MK26 Vibration Isolation Workstation.

The MK26 Series offers the ultimate performance for a wide range of instruments, such as analytical balances, cell injection, confocal microscopes, patch clamping, optical microscopes, wafer probing, sensor calibration atomic force microscopes and other sensitive equipment in fields such as semiconductor processing, telecommunications, aerospace engineering, and medical research. Manufactured in conjunction with Kinetic Systems


See a typical performance curve for this product.
**For International Orders, A Handling Fee of 5% is Added.
*Contact Minus K for
custom payload ranges and sizes

Give us your low frequency
vibration isolation challenge

BM-1 Specification Sheet (used in the MK26)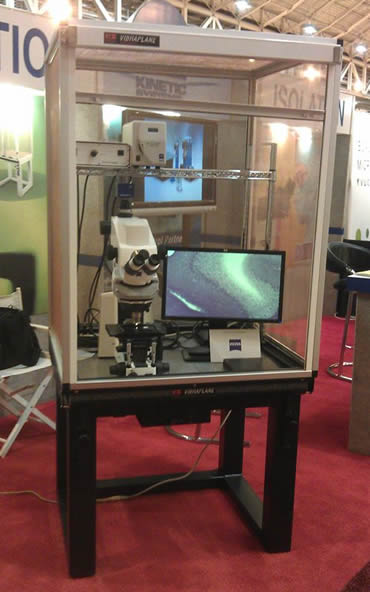 MK26 with Acrylic Chamber
MK26 - 30" x 36" Frame (76 cm X 91 cm)
Height w/ 2" Table top 30.5" - 32" ( 77.4 - 81.25cm)
MK2601-01-XX: 250BM-1 Isolator
Composite Payload Range: 52 lb - 142 lb (23 kg - 64 kg)
Honeycomb Payload Range: 73 lb - 163 lb (33 kg -74 kg)
Table Top Options
Price**
-21 Composite w/white plastic laminate
$10,860
-22 Composite w/stainless laminate
$10,860
-23 Composite w/black plastic laminate
$10,860
-24 Composite w/anti-static laminate
$11,280
-40 Honeycomb/no holes
$11,530
-45 SPILLPRUF Honeycomb 1/4-20 x 1" centers
$12,050
-46 SPILLPRUF Honeycomb M6 x 25mm centers
$12,050
MK2602-01-XX: 350BM-1 Isolator
Composite Payload Range: 162 lb - 242 lb (73 kg - 110 kg)
Honeycomb Payload Range: 183 lb - 263 lb (83 kg -119 kg)
Table Top Options
Price**
-21 Composite w/white plastic laminate
$11,070
-22 Composite w/stainless laminate
$11,070
-23 Composite w/black plastic laminate
$11,070
-24 Composite w/anti-static laminate
$11,490
-40 Honeycomb/no holes
$11,740
-45 SPILLPRUF Honeycomb 1/4-20 x 1" centers
$12,260
-46 SPILLPRUF Honeycomb M6 x 25mm centers
$12,260
MK2603-01-XX: 500BM-1 Isolator
Composite Payload Range: 232 lb - 397 lb (105 kg - 180 kg)
Honeycomb Payload Range: 253 lb - 418 lb (115 kg -190 kg)
Table Top Options
Price**
-21 Composite w/white plastic laminate
$11,280
-22 Composite w/stainless laminate
$11,280
-23 Composite w/black plastic laminate
$11,280
-24 Composite w/anti-static laminate
$11,690
-40 Honeycomb/no holes
$11,950
-45 SPILLPRUF Honeycomb 1/4-20 x 1" centers
$12,470
-46 SPILLPRUF Honeycomb M6 x 25mm centers
$12,470
MK2604-01-XX: 650BM-1 Isolator
Composite Payload Range: 372 lb - 552 lb (169 kg - 250 kg)
Honeycomb Payload Range: 393 lb - 573 lb (178 kg -260 kg)
Table Top Options
Price**
-21 Composite w/white plastic laminate
$11,480
-22 Composite w/stainless laminate
$11,480
-23 Composite w/black plastic laminate
$11,480
-24 Composite w/anti-static laminate
$11,910
-40 Honeycomb/no holes
$12,160
-45 SPILLPRUF Honeycomb 1/4-20 x 1" centers
$12,680
-46 SPILLPRUF Honeycomb M6 x 25mm centers
$12,680
MK26 - 30" x 36" Frame (76 cm X 91 cm)
Height w/ 4 " Table top 32.5" - 34" ( 82.5 - 86.5cm)
MK2605-01-XX: 850BM-1 Isolator
Honeycomb Payload Range: 491 lb -761 lb (223 kg - 345 kg)
Table Top Options
Price**
-80 Honeycomb/no holes
$15,680
-85 SPILLPRUF Honeycomb 1/4-20 x 1" centers
$16,410
-86 SPILLPRUF Honeycomb M6 x 25mm centers
$16,410
MK2606-01-XX: 1000BM-1 Isolator
Honeycomb Payload Range: 751 lb -911 lb (341 kg - 413 kg)
Table Top Options
Price**
-80 Honeycomb/no holes
$15,920
-85 SPILLPRUF Honeycomb 1/4-20 x 1" centers
$16,650
-86 SPILLPRUF Honeycomb M6 x 25mm centers
$16,650
MK26 - 36" x 48 " Frame (91 cm X 122 cm)
Height w/ 2 " Table top 30.5" - 32" ( 77.4 - 81.25cm)
MK2601-22-XX: 250BM-1 Isolator
Composite Payload Range: 0 lb - 51 lb (0 kg - 23 kg)
Honeycomb Payload Range: 0 lb - 86 lb (0 kg - 39 kg)
Table Top Options
Price**
-21 Composite w/white plastic laminate
$11,270
-22 Composite w/stainless laminate
$11,270
-23 Composite w/black plastic laminate
$11,270
-24 Composite w/anti-static laminate
$11,860
-40 Honeycomb/no holes
$12,280
-45 SPILLPRUF Honeycomb 1/4-20 x 1" centers
$12,760
-46 SPILLPRUF Honeycomb M6 x 25mm centers
$12,760
MK2602-22-XX: 350BM-1 Isolator
Composite Payload Range: 71 lb - 151 lb (32 kg - 69 kg)
Honeycomb Payload Range: 106 lb - 186 lb (48 kg - 84 kg)
Table Top Options
Price**
-21 Composite w/white plastic laminate
$11,480
-22 Composite w/stainless laminate
$11,480
-23 Composite w/black plastic laminate
$11,480
-24 Composite w/anti-static laminate
$12,070
-40 Honeycomb/no holes
$12,490
-45 SPILLPRUF Honeycomb 1/4-20 x 1" centers
$12,970
-46 SPILLPRUF Honeycomb M6 x 25mm centers
$12,970
MK2603-22-XX: 500BM-1 Isolator
Composite Payload Range: 141 lb - 306 lb (69 kg - 139 kg)
Honeycomb Payload Range: 176 lb - 341 lb (80 kg -155 kg)
Table Top Options
Price**
-21 Composite w/white plastic laminate
$11,690
-22 Composite w/stainless laminate
$11,690
-23 Composite w/black plastic laminate
$11,690
-24 Composite w/anti-static laminate
$12,280
-40 Honeycomb/no holes
$12,690
-45 SPILLPRUF Honeycomb 1/4-20 x 1" centers
$13,180
-46 SPILLPRUF Honeycomb M6 x 25mm centers
$13,180
MK2604-22-XX: 650BM-1 Isolator
Composite Payload Range: 281 lb - 461 lb (127 kg - 209 kg)
Honeycomb Payload Range: 316 lb - 496 lb (143kg -225 kg)
Table Top Options
Price**
-21 Composite w/white plastic laminate
$11,890
-22 Composite w/stainless laminate
$11,890
-23 Composite w/black plastic laminate
$11,890
-24 Composite w/anti-static laminate
$12,490
-40 Honeycomb/no holes
$12,910
-45 SPILLPRUF Honeycomb 1/4-20 x 1" centers
$13,390
-46 SPILLPRUF Honeycomb M6 x 25mm centers
$13,390
MK26 - 36" x 48 " Frame (91 cm X 122 cm)
Height w/ 4 " Table top 32.5" - 34" ( 82.5 - 86.5cm)
MK2605-22-XX: 850BM-1 Isolator
Honeycomb Payload Range: 394 lb - 664 lb (179 kg - 301 kg)
Table Top Options
Price**
-80 Honeycomb/no holes
$16,300
-85 SPILLPRUF Honeycomb 1/4-20 x 1" centers
$17,280
-86 SPILLPRUF Honeycomb M6 x 25mm centers
$17,280
MK2606-22-XX: 1000BM-1 Isolator
Honeycomb Payload Range: 654 lb - 814 lb (297 kg - 369 kg)
Table Top Options
Price**
-80 Honeycomb/no holes
$16,540
-85 SPILLPRUF Honeycomb 1/4-20 x 1" centers
$17,280
-86 SPILLPRUF Honeycomb M6 x 25mm centers
$17,280
MK26 Workstation Accessories
| | |
| --- | --- |
| Accessory | Price** |
| Additional Rear Shelf (12" x 36") | $370 |
| Additional Rear Shelf (12" x 48") | $530 |
| Class 10 Clean Room Finish | $1,900 |
| **Enclosure (30" x 36" Plexiglas) | $3,630 |
| **Enclosure (36" x 48" Plexiglas) | $3,920 |
| Electrical Outlet Strip (US Plugs only) | $180 |
| **Faraday Cage (30" x 36" Copper) | $2,840 |
| **Faraday Cage (36" x 48" Copper) | $3,230 |
| Fixed Shelf for 30" Table | $350 |
| Fixed Shelf for 36" Table | $450 |
| 36" Guard Rail Pair | $450 |
| 48" Guard Rail Pair | $600 |
| Height Extension 5" (integral) | $460 |
| *Keyboard Shelf (10" x 24") | $520 |
| Monitor Support | $890 |
| Double Monitor Support | $1,540 |
| Overhead Rear Equipment Shelf (36" w) | $970 |
| Overhead Rear Equipment Shelf (48" w) | $1,260 |
| Overhead Side Equipment Shelf (30" w) | $960 |
| Overhead Side Equipment Shelf (36" w) | $990 |
| *Padded Arm Rest Pair | $190 |
| Retractable Caster Set | $750 |
| *30" Side Rail Pair | $320 |
| *36" Side Rail Pair | $390 |
| *Sliding Shelf (10" x 30" white laminate) | $190 |
| *Sliding Shelf (12" x 30" white laminate) | $220 |
| *Sliding Shelf (14" x 30" white laminate) | $240 |
| *Sliding Shelf (10" x 36" white laminate) | $250 |
| *Sliding Shelf (12" x 36" white laminate) | $310 |
| *Sliding Shelf (14" x 36" white laminate) | $360 |
Shelves must match table size
*Requires Guard Rail Pair
**Requires Guard and Side Rail Pairs